John Whalen of Capistrano Beach, California, developed his stand-up fishing equipment and techniques on big yellowfin tuna during long-range trips from San Diego to the Revillagigedo Islands and other prime destinations. Like others who have fought both tuna and marlin, he's a believer that pound-for-pound, tuna fight the hardest. So, it was understandable that after catching many big Pacific yellowfin (up to 300 lbs), he wanted more. He wanted the biggest challenge. To him, there was only one - giant bluefin. So, he knew he had to come to the Atlantic for them. Then he and his friends got a tip about a new bluefin tuna destination - Cape Hatteras (before it became well known for its winter bluefin fishing - Dec thru Mar). Something had been making car-sized holes in commercial fishermen's gillnets. It turned out to be bluefin. He and his friends decided to test their stand-up techniques against the giants of the tuna world. They planned a trip to Cape Hatteras in March of 1997 where they fished stand-up successfully for 4 days on the Citation.  On their second day, the group of five anglers caught about 12 giants in the 300-pound class.  However, as the weather turned sour on their fifth and final day, the unimaginable happened.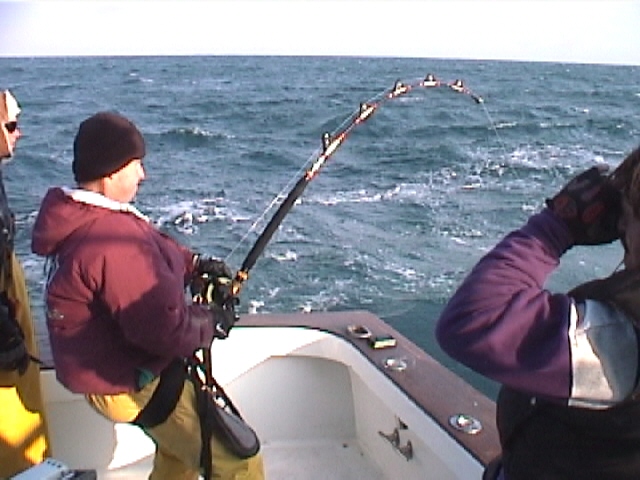 Disaster
With a 350-pound fish on, the deck heaving in the heavy seas typical of this winter fishery (in the "graveyard of the Atlantic"), John, as pictured at right, went to take a step to follow his fish along the transom when a big wave hit just as the giant took off.  Suddenly "the deck just disappeared" said John later.  Before he knew it, he was underwater, upside down, fast becoming disoriented and all the while being pulled deeper and deeper by the big fish.  What would you have done? 

Keeping his head saved Whalen's life.  He wasn't able to get out of his harness.  So he backed off on the drag with one hand while maintaining pressure on the spool with his other hand (to prevent a fatal backlash).  By the time he got the reel in freespool, he was about 30 feet down.  Using one arm and scissor kicks, he fought his way to the surface still harnessed to his rod and reel.  Gasping for air, he made it!  But the first things showing were the bottoms of his shoes.  His buddies said later they thought the tuna had just pulled John out of his shoes and they floated to the top.  After surfacing, his buddy Mark O'Brien, who had jumped in to swim after John, helped him get to the boat. When they were both in again, they realized the giant was somehow still on but with only about 50 feet of line left on the reel.  Typically, John just took up the fight again, got back to fighting and it helped to take away the scared feeling.  When the giant had finally been brought boatside, Captain Fred Parsons yelled from the bridge "He almost killed you; do you want to kill this fish?"  Whalen knew in an instant he couldn't kill this valiant fish.  "No, I want to tag and release him." They finished the day by catching several more giants. 

The whole adventure made Whalen a celebrity with TV, radio, magazine stories and newspaper interviews all describing the man who was dragged overboard by a giant bluefin tuna.  This publicity may also have provided a big stimulus for the great Hatteras fishery everyone now seems to know about. 
"Grander" on Stand-up
These days he fishes out of Nova Scotia where the very largest giants are found in summer and fall.  John always wanted to catch a grander (1,000 lbs.) on stand-up tackle.  No one else has done it. Below is a picture of him working a giant from a commercial fisherman's boat out of Nova Scotia.  And below that, is his grander. (The distortion of the image in the tail-caudal peduncle area is the fault of my scanner.)      (Photos, John Whalen)
Below, "on the leader" is John Whalen's grander taken in 1999 on stand-up.     Right, Whalen and son, Sean, exult on learning it weighed 1,015 lbs. on the scale at the commercial dock.  Since the giant had been gutted, gilled and immediately bled, its "live" weight would have been at least 1,165 lbs.